The Beauty Products This Esthetician Uses to the Last Drop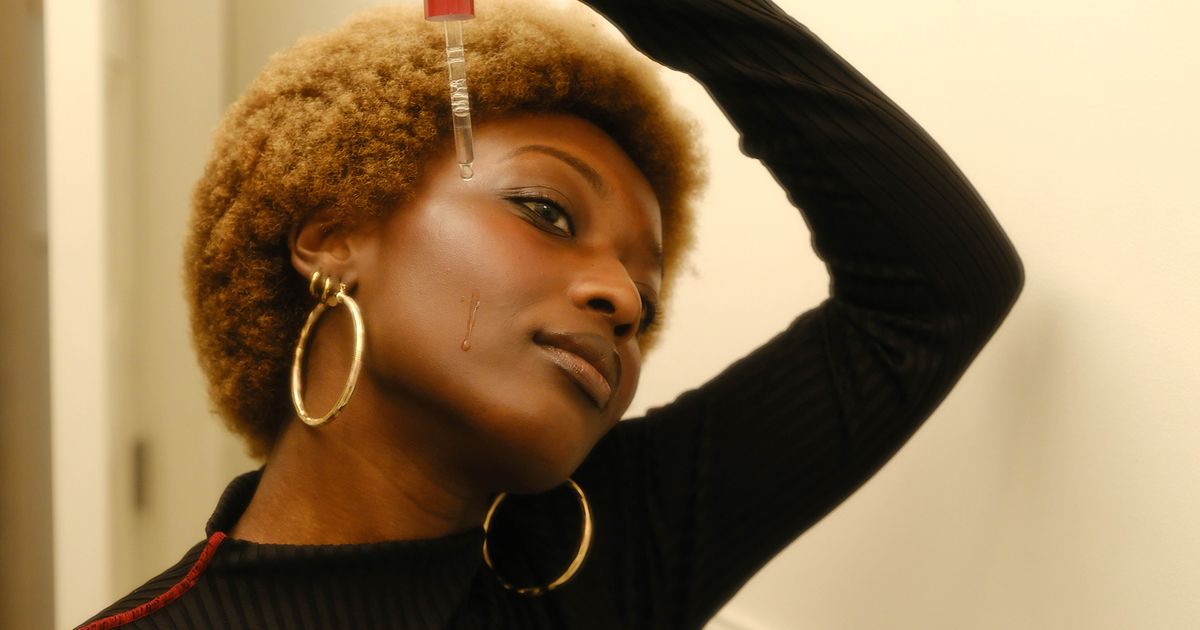 If there's one thing you can expect to leave with after a session with esthetician Samantha Mims, it's a glow. And it's not just because of her hands, which lift, hydrate, and plump the skin every time; it's also the ambiance she sets at Brooklyn Face & Eye: funky neo-soul music in the background and much-needed kiki included. "I like to consider myself as very down to earth and relatable and want my clients to know they can talk to me about anything," the Philly-born, New Jersey–raised beauty guru says with a smile on her face over dinner at Brooklyn's Colonia Verde. "A lot of people say it's their therapy."
After studying chemistry at St. Francis College, Mims got her start in beauty studying at famed beauty school Christine Valmy. Upon graduating in 2017, she began working as an esthetician for Narayan yoga studio in Brooklyn, Equinox, and Noël New York hair salon. "I loved that it was in Black-owned, in Bed-Stuy, and that I was bringing skin care to my community," she says. But looking back, Mims always had a passion for beauty and making others feel good in their skin. "I was definitely into skin care growing up. And I knew I wanted to be in a field where I could help people. My parents would always call me their little nurse because I was always taking care of them," she says with a laugh. "But I really got into skin care when I battled with my own acne issues growing up." She credits her confidence to go after her dreams to her family life. "I just feel really lucky that I grew up with strong women around me. Even during times where I was teased growing up, I still had confidence deep down and always knew I was going to be okay," Mims adds.
These days — in between taking Brooklyn's coolest clients and partnerships with brands like Glossier and Nars — Mims makes time for herself via her own self-care routines. These includes facials from her go-to esthetician, Crystal Greene; regular dry brushing for smooth skin; and using her can't-live-without toner.
8:00 — "I'm very adamant about taking vitamins right now. Especially for my hair growth. I definitely like to have my tea in the morning, too. Especially in the winter time. I drink a lot of rosemary tea — it feels like a good gut cleanse. I've been trying to be better about movement daily, but it hasn't been the easiest thing for me. I also make sure to eat a good breakfast and take a shower."
8:30 — Epi.logic True Calm Cleanser: "I like to work it in and get a good massage going. It kind of warms up the skin first and cleans and hydrates my skin really well," thanks to the rose-hip seed and vitamins A, C and E.
8:32 — Epi.logic Even Balance Toner: "I've been using this since 2019 and it's my favorite product."
8:34 — Saro de Rue's Hyaluronic Acid Serum: "I've been using this freeze-dried HA. I love this because it's super-thick. I use it every other night."
8:35 — Total Package Moisturizer: "I layer on this moisturizer," which is filled with peptides, niacinamide and bakuchiol, "because it plumps and strengthens my skin."
8:36 — SPF: "I usually rotate between different SPF's depending on my mood or needs that day. I love the Tula Protect sunscreen because it has probiotics in it. It's great for a natural glow in the summer. I also like Supergoop's Unseen Sunscreen, especially if I want to look extra hydrated or have more of a sheen on my face. I feel like SPF is one of the products in my routine that I'm willing to play around with and try different things."
8:38 — Le Volume de Chanel Mascara: "I don't typically wear any makeup on the daily. But if I do, I'm definitely grabbing this mascara. I like that it makes me look like I have some natural falsies on."
8:41 — Rose Inc's Cream Blush: "I love a pink pop of color on the cheeks. I love that it also doubles as a lip color. It adds a nice shimmer."
8:43 — Ami Colé Lip Oil: "This is my all-time favorite. Any shade is great to me. I'm always going to reach for this."
8:44 — Glossier Boy Brow: "This is a classic staple for me. I use the brown shade and it always keeps my brows in place."
8:46 — Hollywood Hair Growth Oil: "Shout out to my mama — she put me on to this. It's my saving grace. My whole family's been using this, and it's definitely done wonders for our hair."
9:30 — True Calm Cleanser
9:32 — Even Balance Toner
9:34 — Alpha H Liquid Gold: "I love using a glycolic serum at night for exfoliation. This has about 14 percent glycolic acid in it. I don't use this every night, maybe like one or two times a week."
9:35 — NuFace Super Peptide Booster: "This is really nice. I especially like to use this after the previous steps because without proper hydration, those ingredients can tend to dry the skin out."
9:36 — Total Package Moisturizer
Daily exfoliating toner: "This is an easy way to destroy your skin barrier. I wish brands would be more clear about educating people on this and how it might not be the best thing to use everyday."
Inclusivity: "I love seeing conversations happening about acne, eczema, skin discoloration, etc. I want people to be able to come forward and feel proud and own their skin types. I think we've made it a little easier to do that recently."
Diverse expert opinions: "I think the focus, a lot of the time, is on influencers, which is great, but I feel like we also end up seeing a lot of the same people over and over again."
Chlorophyll: "It's overhyped to me. I feel like it's always in green masks and what not, which is tough for me because then I can never try out those masks since I'm allergic. I also notice certain clients tend to have a reaction to chlorophyll too."
Lipids. Peptides. Ceramides. Vitamin Ccmplexes. Glycerin: "I love anything that's going to strengthen the skin barrier. Those have helped my eczema."
Epi.logic's Even Balance Toner: "I was introduced to it in 2019. I like what it did for my skin then. And I've been using it since then, even through the reformulation. The reformulation is more like a toner-essence hybrid, so it's thick in texture. It feels like a supportive product in that it's a great primer for the following steps."
Dry brush: "I've been using the Keys Soul Care dry brush. It just makes my skin so soft. It's really changed the game in terms of how I feel about my skin. I really enjoy it and I definitely want to continue dry brushing for the rest of my life."
Getting my nails done: "I've developed a strong addiction. Especially because a lot of people record during our facial sessions, it's made me want to make sure my nails and hands are always on point. Additionally, I love getting facials from Crystal Greene. She takes care of my skin and keeps me looking good. I give her facials too."